Student Resources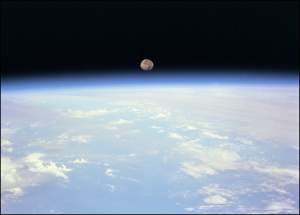 The Earth's atmosphere from space shuttle Discovery.
As Mark Twain said, "Everyone complains about the weather, but nobody does anything about it." Atmospheric scientists may not be able to change the weather, but their research contributes to our understanding of weather patterns and phenomena and helps communities prepare for and respond to severe weather events such as hurricanes, tornadoes and droughts. Additionally, atmospheric science addresses critical environmental issues such as air quality and pollution. As an atmospheric science major at UC Davis, you will work with recognized experts in the field as you develop an understanding of the roles our atmosphere plays in making Earth a habitable planet.
UCDavis Atmospheric Science offers undergraduate as well as graduate degree programs. As an undergraduate major, you will begin your studies by developing a strong foundation in mathematics and the natural sciences. At the upper-division level, you will take a series of courses in weather observation, analysis and forecasting as the groundwork for the courses in specialized weather and science topics that follow. In addition to your coursework in atmospheric science, you will take advanced courses in other disciplines (such as chemistry, environmental studies or computer programming) to broaden your understanding of modern meteorology.
Check for information about admissions and online applications.
Visit the Office of Graduate Studies for information on atmospheric science graduate degrees.
Additional Guidelines for Application
1.  Report GRE and  TOEFL scores electronically directly to the institution.
Institutional code: 4834
Department codes for Atmospheric Science: 0501 (GRE); 60 (TOEFL)
2.  Transcript submission: UC Davis requires academic records from each college-level institution you have attended.  You will be instructed to upload scanned copies of your transcripts after you have submitted your online application.  For more details visit https://gradstudies.ucdavis.edu/submit-transcripts.
3.  All letters of recommendation must be submitted electronically by the referee, through the on-line application. The on-line application will automatically notify the referee and provide instructions on how to submit his/her letter.
Student Advising Office
1152 Plant & Environmental Sciences Building
Office: 530-752-1669    Fax: 530-752-1552    Email: lawrgradadvising@ucdavis.edu
Do you want to visit us ? Check our maps and directions !